Dennise, my wife, and I heard the message of Grace in 2007 after 27 years of religious lifestyle including being pastors for 10 years. Since 2010 we got in contact with Grace Walk and it has been a wonderful journey hearing about our identity and relationship with the real God. We started sharing this precious message with our students at Bayamon Christian Academy since, and it's been a thrill. We gather every week with them and people who want to hear about this great message of love and freedom. We want to help other Christians here in Puerto Rico grow in the message of grace and their relationship with our loving God.
Javier Ramon
Contact Info: javierinhim@gmail.com
Surrey, BC
Todd and I have been in the ministry of Grace for over 20 years. We first heard this amazing gospel while still in a very legalistic church and were blown away. All our walls came down of what we thought we knew and thus began our wonderful journey in discovering the unconditional love of God. We have been involved with home groups for many years, but are very excited to be joining up with Grace Walk groups to be able to share and support other believers in our area.
Todd & Lorraine Corbett
52-6945 185th St
Surrey BC V4N 6N4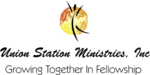 Union Station Ministries is dedicated to showing people who they are in Christ. It is our desire to share the revelation of God's love with hurting people and to walk with them as they awaken to their true identity. Come join us if you are in our area. Please call or email for additional information. My email is nathan@unionstationministries.org